We support you throughout the entire process: designing documents, creating and sending invoices and ensuring that you get paid.
Without FastBill, our accounting would require much more effort and we would not have such a good overview of our finances.
Kuhn Management Experts
Rated 5/5 on ausgezeichnet.org
Easy DIY-accounting for your business
Thanks to many useful helpers, you can do your own bookkeeping with ease and send everything to your tax consultant with just one click.
Uncomplicated workflow and everything on board for small, fast and uncomplicated accounting.
Sütti it.design
Rated 5/5 on ausgezeichnet.org
Or let us handle your accounting
We'll do all your paperwork: Collecting and digitizing documents, pre-accounting, account reconciliation, financial reports - save a lot of time with FastBill Premium.
Finally I have a simple total package for my accounting. Everything runs automatically in the background with FastBill Premium. Really recommendable.
David
Rated 5/5 on ausgezeichnet.org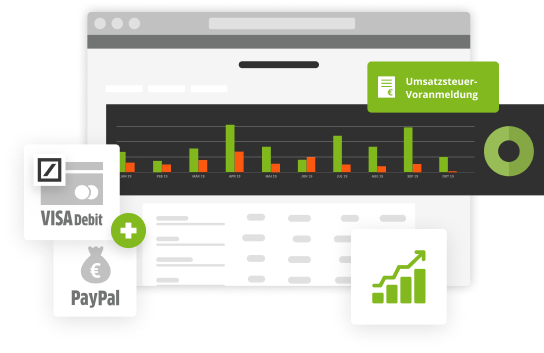 Your finances and customers at a glance
Keep track of your income and expenses. With the banking in FastBill, you also always know how much money you have available. The customer module helps you to keep an eye on payment behaviour and contacts.
Make your dreams come true. We'll take care of the paperwork.
More than 70,000 customers use FastBill to take care of everything from creating invoices to complete accounting. Whatever you want to do: We have the right solution!
So hast du deine Buchhaltung im Griff.
Mehr als 70.000 Kunden nutzen bereits FastBill.
Habe alle Daten immer abrufbereit
Werde zum Steuerberater-Liebling
Minimiere den Zeitaufwand
Verpasse nie wieder eine Frist
FastBill wurde speziell für Selbstständige und kleine Unternehmen entwickelt
Du solltest deine Zeit nicht mit Buchhaltung verschwenden. Mach was dich antreibt, nicht was dich aufhält.
Du schreibst Rechnungen, wir kümmern uns um den Rest.
Einfach für dich und deine Kollegen
Du kannst deinen Kollegen Zugriff auf FastBill geben und individuell einstellen, wer welche Daten sehen darf. Mit der FastBill Zeiterfassung kann jeder Mitarbeiter auf deine Projekte Stunden buchen. So fällt dir die Rechnungstellung noch einfacher.
Einfach für dich und deine Kunden
Kundendaten und Ansprechpartner werden in der digitalen Kundenakte verwaltet. Über das Kundencenter kannst du deinen Kunden Zugriff auf alle Rechnungen und Belege geben. Auf Wunsch kann direkt online per Kreditkarte, Paypal oder Klarna bezahlt werden.
Du entscheidest, wie viel Zeit du mit deinem Papierkram verbringst.
Du kannst einfach nur Rechnungen schreiben oder deine komplette Buchhaltung automatisieren.
Wir wachsen mit dir.
​

Dein digitales Büro

Mit FastBill hast du alles an einem Ort. Verwalte deine Kunden, erstelle individuelle und rechtssichere Rechnungen, erfasse Belege und habe deine Finanzen immer im Blick.

​

Mit optimierten Prozessen

Deine Kunden begleichen ihre Rechnungen in Rekordzeit in ihrem eigenen Kundencenter. Belege erfasst du entspannt per E-Mail und deinen gesamten Papierkram überträgst du mit einem Klick direkt aus FastBill an DATEV oder deinen Steuerberater.

​

Bis zur automatisierten Buchhaltung

Gar keinen Bock mehr auf Papierkram und Buchhaltung? Wir übernehmen das gerne für dich! Von Vorkontierung bis hin zum Jahresabschluss, wir finden für alles eine Lösung.
Einfach, sicher und automatisiert.
Jetzt registrieren
Der Test ist gratis, rockt aber gewaltig!